Model : GTP
– The wing design of the mount helps stabilize the tie in high vibration applications.
– These ties are ideal for fixing bundles along a wide range of surfaces materials such as sheet metal, wood, or cast iron.
– One-piece, all plastic ties for quick, simple cable mounting.
– Applying by first drilling a hole on panel or board with appropriate hole diameter and board thickness. Insert the mount head to the hole for fixture.
---
Material : UL approved Polyamide 6.6, 94V-2
Color : All colors are available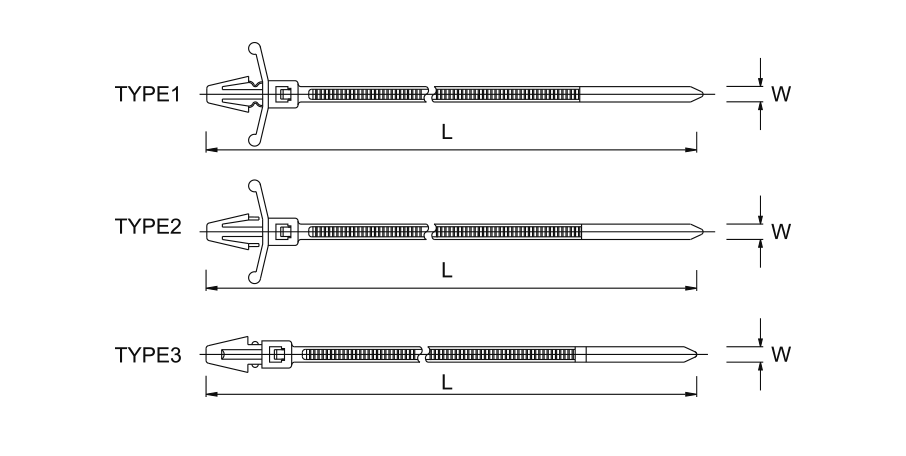 Part.No
type
Length
Width
Hole Diameter
Max.
Bundle Dia.
MIn.
Loop tensile strength
Panel Thickness
Operating Temperature
mm
inch
mm
inch
mm
inch
mm
inch
kgf
lbs
mm
inch
Max.
Min.
GTP-110M
1
110
4.33
2.5
0.1
Ø4.8
0.189
22
0.87
8.2
18
2.4
0.094
85˚ C
185˚ F

-40˚ C
-40˚ F
GTP-130M
1
130
5.12
2.5
0.1
Ø4.8
0.189
28
1.1
8.2
18
2.4
0.094
85˚ C
185˚ F
-40˚ C
-40˚ F
GTP-130I
1
130
5.12
3.2
0.13
Ø4.0
0.157
28
1.1
13.6
30
2
0.079
85˚ C
185˚ F
-40˚ C
-40˚ F
GTP-110ST
1
110
4.33
4.8
0.19
Ø6.4
0.252
22
0.87
22.6
50
3.2
0.126
85˚ C
185˚ F
-40˚ C
-40˚ F
GTP-130ST
1
130
5.12
4.8
0.19
Ø6.4
0.252
25
0.98
22.6
50
3.2
0.126
85˚ C
185˚ F
-40˚ C
-40˚ F
GTP-170ST
1
170
6.73
4.8
0.19
Ø6.4
0.252
38
1.5
22.6
50
3.2
0.126
85˚ C
185˚ F
-40˚ C
-40˚ F
GTP-190ST
1
200
7.87
4.8
0.19
Ø6.4
0.252
45
1.77
22.6
50
3.2
0.126
85˚ C
185˚ F
-40˚ C
-40˚ F
GTP-110MA
2
110
4.33
2.5
0.1
Ø4.8
0.189
22
0.87
8.1
18
2.4
0.094
85˚ C
185˚ F
-40˚ C
-40˚ F
GTP-130MA
2
130
5.12
2.5
0.1
Ø4.8
0.189
28
1.1
8.1
18
2.4
0.094
85˚ C
185˚ F
-40˚ C
-40˚ F
GTP-130IA
2
130
5.12
3.2
0.13
Ø4
0.157
28
1.1
13.6
30
2
0.079
85˚ C
185˚ F
-40˚ C
-40˚ F
GTPS-100ST
2
100
3.94
4.8
0.19
Ø6.4
0.252
18
0.71
22.6
50
3.2
0.126
85˚ C
185˚ F
-40˚ C
-40˚ F
GTPS-190ST
2
190
7.48
4.8
0.19
Ø6.4
0.252
45
1.77
22.6
50
3.2
0.126
85˚ C
185˚ F
-40˚ C
-40˚ F
GTP-150I
3
150
5.91
3.6
0.14
Ø5.2
0.205
32
1.26
13.6
30
2.8
0.11
85˚ C
185˚ F
-40˚ C
-40˚ F
GTP-200ST
3
202
7.91
4.8
0.19
Ø6.4
0.248
46
1.81
22.6
50
3.6
0.141
85˚ C
185˚ F
-40˚ C
-40˚ F
Releasable
GTRP-130I
1
130
5.12
3.2
0.13
Ø4.0
0.16
28
1.1
13.6
30
2
0.08
85˚ C
185˚ F
-40˚ C
-40˚ F
GTRP-110ST
1
110
4.33
4.8
0.19
Ø6.4
0.252
17
0.67
22.6
50
3.2
0.126
85˚ C
185˚ F
-40˚ C
-40˚ F
GTRP-130ST
1
130
5.12
4.8
0.19
Ø6.4
0.252
25
0.98
22.6
50
3.2
0.126
85˚ C
185˚ F
-40˚ C
-40˚ F
GTRP-190ST
1
200
7.78
4.8
0.19
Ø6.4
0.252
45
1.77
22.6
50
3.2
0.126
85˚ C
185˚ F
-40˚ C
-40˚ F
GTRP-170ST
2
170
6.73
4.8
0.19
Ø6.4
0.252
38
1.5
22.6
50
3.2
0.126
85˚ C
185˚ F
-40˚ C
-40˚ F
GTRP-200ST
3
200
7.78
4.8
0.19
Ø6.4
0.252
46
1.81
22.6
50
3.6
0.14
85˚ C
185˚ F
-40˚ C
-40˚ F
GTRP-200I
4
100
3.94
3.5
0.14
Ø4
0.16
22
0.87
13.6
30
2
0.08
85˚ C
185˚ F
-40˚ C
-40˚ F